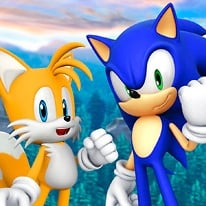 Sonic the Hedgehog 4
36,420 Plays
How to play Sonic the Hedgehog 4?
Get ready for a new adventure with our beloved friends Sonic and Tails in Sonic the Hedgehog 4, a fun platformer developed in 2010! Jump around, face all kinds of dangers, and enjoy amazingly detailed and colorful graphics.
With the dangerous Dr. Eggman defeated in the last confrontation, Sonic decides to explore new and unknown lands, but your arch nemesis; furious at his failure decides to try again this time with all his strength. It's time to protect the life of our beloved hedgehog by helping him overcome all sorts of obstacles and deadly traps along the way as he collects a multitude of golden rings. Take on 4 new episodes that mix modern style with classic gameplay, defeat your opponent without mercy and cross the finish line safe and sound!