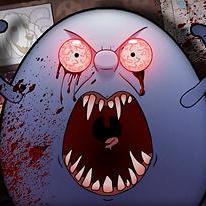 One Night At Flumpty's
804,453 Plays
How to play One Night At Flumpty's?
Enjoy this fan-made game based on the scary
Five Nights at Freddy's
!
Flumpty Bumpty is a happy egg that started killing people for no reason at all. He's good friends with Birthday Boy Blam, a little square guy who is obsessed with pizza and also becomes violent.
Just like in
FNAF
, you'll have to watch the security cameras closely and prevent the characters from entering your office for at least 6 days.
Turn the lights off and keep those guys away!