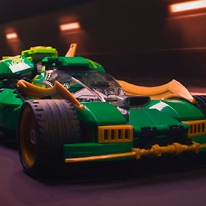 Ninjago Prime Empire: The Big Race
15,002 Plays
How to play Ninjago Prime Empire: The Big Race?
Discover the new LEGO game called NinjaGo Prime Empire: The Big Race! Help our beloved Jay overcome all kinds of obstacles and prepare to enjoy an exciting car race through an environment full of dangers and hundreds of dangerous traps.
Can you make it across the finish line in first position? Travel around your environment in search of power ups that will make your mission easier and step on the gas to feel the excitement and adrenaline on your skin as you overcome hundreds of unexpected challenges where your life will be in all sorts of danger.
What features does NinjaGo Prime Empire: The Big Race offer?
Exciting, detail-packed 3D graphics
Levels full of traps and obstacles that will test your skills
Enjoy incredible vehicles and special tracks.
Face dangerous enemies who are ready to push you off the road without mercy.