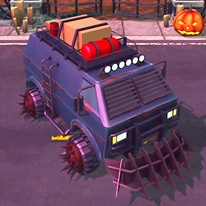 Halloween Skeleton Smash
4,183 Plays
How to play Halloween Skeleton Smash?
Experience true terror with Halloween Skeleton Smash in a thrilling driving game through a dark and sinister cemetery! Take control of a large van at full speed and mercilessly smash all the skeletons and monster creatures in your path.
Avoid hitting the van with obstacles such as trees, coffins, or dangerous bombs that will cause irreversible damage to your vehicle, collect all the repair kits and fuel you can find in your path and get as many points as you can from the hits. Use all the money you get to buy upgrades that will allow you to be much more destructive and get ready for the action!