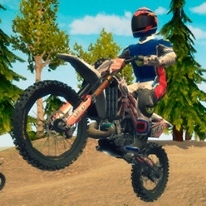 Dirt Bike Enduro Racing
26,981 Plays
How to play Dirt Bike Enduro Racing?
Feel the excitement and adrenaline rush and get ready to participate in an incredible motorcycle race through a mind-blowing 3D environment full of obstacles and ramps on which to perform acrobatics. It's time to put your riding skills to the test and overcome lots of dangers along the way by collecting lots of coins and avoiding bumping into the trees that line the circuit. Take on more than 10 challenging levels and put the pedal to the metal to take first place on the leaderboard. Will you be able to reach the finish line safely? Enjoy incredible realism and immerse yourself in a unique race against tons of opponents who are ready to win!
What kind of features do you have in Dirt Bike Enduro Racing?
Enjoy 10 challenging levels.
Overcome all sorts of obstacles around the circuit.
Put the pedal to the metal to win.
Move through a realistic 3D environment.