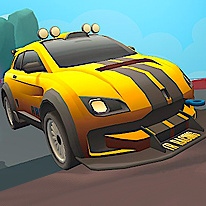 Mini Rally Racing
7,127 Plays
How to play Mini Rally Racing?
Mini Rally Racing invites you to enjoy a colorful world of rally racing with fun mini cars as the main characters. Get ready to enjoy unique and exciting tournaments as you race through amazing tracks against dozens of opponents for the ultimate victory.
Select the game mode you like best, and choose your favorite car from 12 different models! Plus, you can play against your best friend to prove who is the best racing driver of all time. Are you ready to feel the speed on your skin? Enjoy amazing, detailed and colorful 3D environments and try to control the steering wheel well to avoid going off the track. Good luck!