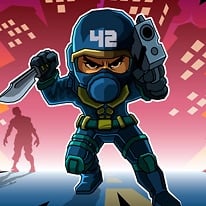 Zombie Killer Online Game
23,926 Plays
How to play Zombie Killer Online Game?
It's time to try to survive in an apocalyptic city overrun by the undead! Waves of guns, zombies, death and lots of destruction await you in Zombie Killer Online Game to destroy the terrible threat that terrorizes mankind.
Select your favorite hero and get ready to take on the role of a brave soldier ready to restore peace and well-being to his people. Use all kinds of weapons and explosives to destroy any monster that dares to approach the barriers of your small fortress, earn coins to invest them in hiring new soldiers and catch lots of power ups with each death that increase your ammo and health in order to resist the enemy stalking. You can enjoy a total of 5 unique game modes, lots of weapons, 5 brave heroes and exciting gameplay, each mission will have a different way to complete it successfully! Good luck soldier...
MOVE

ATTACK

f

SHOOT

q

CAMBIAR DE ARMA

g

THROW