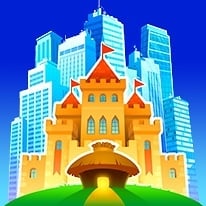 WORLDS Builder: Farm & Craft
-
1,046,391 Plays
How to play WORLDS Builder: Farm & Craft?
Command the mighty forces of nature to bring the world of your vision to life!
Create land and divide it from water, raise mountains and ignite volcanoes; spread boundless sands, lush forests and fields of gold throughout your land. Raise a mighty civilization and take it from antiquity to the space age. Nature, technology and society: all bend to your will ... Explore, trade, breed!

Immerse yourself in creative gameplay with City Builder, global simulator and MMO strategy elements!
WORLDS Builder features:
OPEN WORLD Form a perfect earth using the forces of nature.
POWERFUL ALCHEMY Perform elaborate reactions with elements
EXPERIMENTS WITH LIFE Discover the secrets of evolution and create various life forms
STRONG ECONOMY Gather resources, create items and sell them for profit
PRACTICAL EDUCATION Train experts in highly skilled professions
TRAVEL TO THE BEYOND Send expeditions in search of mysterious treasures

What's New:
New scrolls are added to upgrade workers
Updated shops in the Port and the Clan Tower
New scrolls can now be obtained as rewards in expeditions
New tournament rewards are added
Bug related with the Caravan is fixed