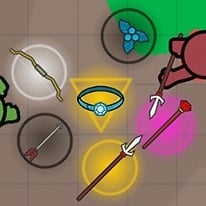 TheLast.io: Battle Royale
-
56,243 Plays
How to play TheLast.io: Battle Royale?
TheLast.io: Battle Royale is an epic 2D fantasy battle royale game where you battle to become the last survivor by testing your magical skills against your enemies. Work hard to outwit your opponents as you collect weapons, magic potions and food, while discovering all sorts of new attacks to defend yourself from almost certain death.
Get ready to enjoy 2 different game modes, one in which you will have to face danger alone and the duo mode in which you will fight as a team against your enemies for a better chance of survival. At the beginning of the game, you'll jump out of a dragon's nest and parachute into the adventure, search for different chests with great loot inside and become the last survivor!
What features does TheLast.io: Battle Royale have to offer?
Experience all the excitement with 2 different game modes.
Enjoy customizing your character with over 350 different options.
Unlock 45 badges as you progress through your adventure.
Complete a total of 30 exciting missions.
Invest your rewards in new swords, axes, guns and magical accessories.
Who created TheLast.io: Battle Royale?
This game was developed by Dean Édan.

MOVE

AIM

ATTACK

JUMP

e

INTERACTUAR

r

RELOAD

1

-

6

CAMBIO DE ARMAS
Latest Multiplayer Games