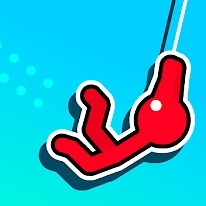 Stickman Hook
650,525 Plays
How to play Stickman Hook?
Move this friendly stickman around stages packed with obstacles! Use a rope to move around, have fun but try not to fall!

How to play Stickman Hook?
In Stickman Hook you control a stickman doll and your mission is to reach the end of each stage. To do this you have a hook that you have to throw to an anchor point and swinging, reach the next one. Go from point to point until you reach the goal. You will also find elastic walls and floors that will give you an extra boost if you collide with them. Launch your hook automatically to the nearest anchor point with a mouse click, hold down to swing and release to unhook. Use gravity and inertia to gain speed and reach the end of each level in a few jumps.
Need some tips on how to get better at Stickman Hook?
For starters, you'll need to understand how the physics of the game work. Get used to them and try them out. One thing is essential, the further to the left of an anchor point you hook, the more speed you'll pick up for the next jump. Look for alternate routes to get through each level. In some levels the top will be empty and you will be able to jump over all the obstacles and reach the end in a few steps. Last but not least, don't forget to bounce off walls and floors. With enough momentum they can make you go further than any swing.
Who developed Stickman Hook?
Stickman Hook is a game developed by MADBOX in 2018. It was released in its App version for mobile devices and in the browser version that we bring you here. Since its release it has enjoyed multiple updates that have been improving the players' experience with new levels and challenges.
Minitorneos, chat & make friends
🕹️ Which games are similar to Stickman Hook?
❤️ Which are the latest Kids Games similar to Stickman Hook?
📽️ Which are the most viewed videos and gameplays for Stickman Hook?