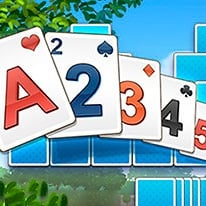 Solitaire Tripeaks 2
28,950 Plays
How to play Solitaire Tripeaks 2?
Having a boring day? Well, you have no excuse! Arm yourself with patience as you play this version of classic solitaire in Solitaire TriPeaks 2. Arrange all the cards on the board by making ladders in ascending or descending order and discover a new card if you run out of moves.

It sounds simple enough, but only the most privileged minds will have a chance to win - let yourself be carried away by the ultimate fun and enjoy a unique journey through beautiful Paris and its enchanting corners! Can you make it all the way to the Eiffel Tower and pass a total of 60 exciting levels?