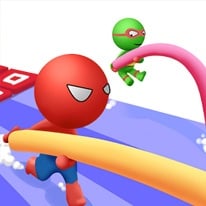 Pole Vault Jump
-
51,130 Plays
How to play Pole Vault Jump?
Are you ready to put your pole-vaulting skills to the test in Pole Vault Jump? Take on a thrilling obstacle course and dodge every obstacle in your path by always jumping at the right time and collecting enough coins to buy new upgrades and better trained characters.
Show your unique reflexes and decide the best time to jump and avoid a terrible crash that will waste your time and prevent you from reaching the top position. Get the key that will unlock some treasure chests with which you'll get some gems to unlock new and increasingly difficult levels, and get ready for some fun!