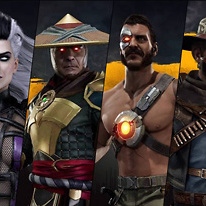 Mortal Kombat: Revelations
39,006 Plays
How to play Mortal Kombat: Revelations?
Enjoy an exciting fighting game based on the classic Mortal Kombat with Mortal Kombat: Revelation! Are you a big fan of fighting games? Choose your favorite character from the many fighters and enjoy an action-packed death match.
Strike the most violent and devastating blows against your opponents and try to beat them all in a great tournament! There are no punches, all that matters is winning and surviving. Show your courage, prove your strength and combat experience and protect your life before it's too late. Good luck!

MOVE

a

HIGH KICK

z

LOWER KICK

s

PUÑETAZO ALTO

x

PUÑETAZO BAJO

d

CUBRIRSE