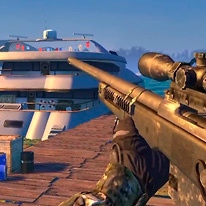 Maritime Sniper
19,564 Plays
How to play Maritime Sniper?
Are you ready to put your sniper skills to the test in a tough battle for survival in Maritime Sniper? Stand in a privileged place where the view of the battlefield is wide and unobstructed, and watch carefully all the terrorists sneaking up to your ship ready to destroy it.
Don't let any of these dirty guerrillas accomplish their mission and annihilate them mercilessly by shooting directly at their heads or exploding the gasoline barrels around them. Don't discover your position because of a bad move and don't give in to the enemy and complete your mission to protect your people without a single scratch.