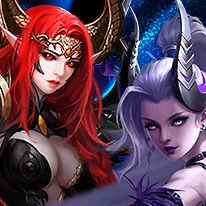 League of Angels – Heaven's Fury
-
3,454 Plays
How to play League of Angels – Heaven's Fury?
The near omnipotent gods have fallen prey to corruption, and have chosen you to gather the legendary angels, defeat the darkness, and reconquer heaven. Play League of Angels - Heaven's Fury, the epic 3D online action MMORPG set in a fantasy world inspired by Western mythology.
Choose your hero from powerful dragons, enigmatic mages, and lethal archers, each with unique abilities - when facing terrifying enemies, transform into an angel of light or an angel of darkness and use their fabulous skills!
Take the challenge and compete against players from all over the world - only the winners will be rewarded! Face endless waves of towering NPC bosses and earn exceptional equipment and crafting materials to increase your combat rank.
Take part in this exciting new fan-favorite installment of League of Angels, the first MMORPG in the LoA series, packed with explosive PvP combat and frenetic turn-based action. Lead your heroes and restore peace to the world in League of Angels - Heaven's Fury.

Latest Multiplayer Games