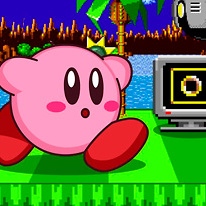 Kirby in Sonic The Hedgehog 2
30,663 Plays
How to play Kirby in Sonic The Hedgehog 2?
Our beloved pink friend Kirby, and great friend of Mario, has snuck into the virtual world of Sonic for the second time! Are you ready to experience a special adventure in Kirby in Sonic The Hedgehog 2 as you test your skills and reflexes?
Experience a thrilling journey as you battle dangerous robotic enemies filled with anger and resentment towards your character, and overcome a multitude of traps while collecting hundreds of gold coins. Go back to your childhood as you play with the cute pink character and step into the shoes of your beloved Sonic! Try to cross the finish line in one piece and have a great time...