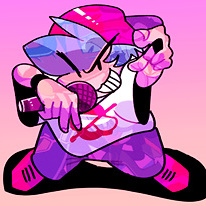 Friday Night Funkin'
8,766,593 Plays
How to play Friday Night Funkin'?
Friday Night Funkin' is a fun and unique music rhythm game to test your musical knowledge and reflexes. You are trying to kiss your girlfriend, because that's what you want most in the world, but her evil father won't let you get close to her and his only intention is to end your life to protect his little girl.
But you have a small chance to fulfill your dream! Her father is a former rock star, so the only way to get to her heart and save your life is through the power of music - try to play all the musical notes at the right time to earn enough points and win the game!
Do you know how to play Friday Night Funkin'?
First you must complete the tutorial level, start progressing through the story or head to the free play mode and play against any character in the game's story. In story mode, you can set the difficulty level that best suits your skills. The game features a variety of fresh and original tracks to play, ranging from easy to difficult.
Who created Friday Night Funkin'?
This game has been developed by NinjaMuffin99, PhantomArcade3K and Evilsk8r took care of the Art and the music is by Kawaisprite. At this itch.io link you can support the creators.
What are the new updates for Friday Night Funkin'?
We added WEEK 7 with TANKMAN (Newgrounds character). Difficulty and pace have been increased.
Now you can play Friday Night Funkin' (FNF MOBILE) from your mobile, any device or Tablet! Show the rhythm in you.