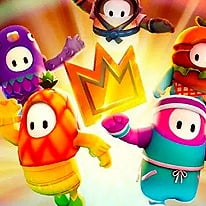 Fall Guys: Ultimate Knockout
-
1,367,504 Plays
How to play Fall Guys: Ultimate Knockout?
Enjoy an exciting multiplayer racing game with Fall Guys where players compete to be the first to cross the finish line! The stage is full of obstacles and moving platforms that will take you from one side of the screen to the other almost without you noticing. Just pay attention and jump at the right time to avoid falling into the void and move forward without wasting time.
Leave all your opponents behind in this fun battle, and avoid all the obstacles in your path if you want to claim the final victory! Enjoy simple 3D graphics with amazing physics and show off your skills before it's too late, so make sure you don't get left behind and have a great time!
What features stand out in Fall Guys?
Enjoy simple 3D graphics with amazing physics.
Run without looking back until you reach the finish line.
Overcome hundreds of obstacles and mobile platforms.
Avoid falling into the void with a bad jump.
Take the lead