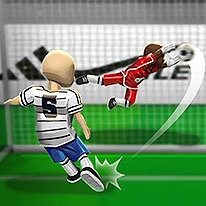 Euro Penalty Cup 2021
5,520 Plays
How to play Euro Penalty Cup 2021?
Get ready to enjoy the biggest football event of the year with Euro Penalty Cup 2021! Are you ready to lead your team to victory and become the best player of all time? To do so, take part in this tough showdown and put your fabulous sporting skills to the test.
Try to get as close to your opponent's goal as you can and calculate the strength, direction, and height of your shot to score a nice goal in his goal - you'll have to outsmart the goalkeeper if you want to score a goal! And above all, you'll have to put all your reflexes on alert if you want to defend your goal tooth and nail. Try to anticipate the movements of your opponents and pay attention to the clues that will show you the direction your goalkeeper has to go if you want to stop all the goals. Tie your bootlaces tightly and do your best to win the grand final!