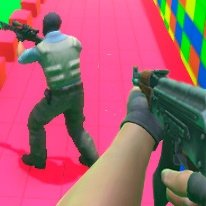 Counter Craft: Lego Clash
-
7,792 Plays
How to play Counter Craft: Lego Clash?
Enter the gaming arena and sharpen your aim! Are you ready for action? Enjoy an exciting FPS action game with incredible graphics in Counter Craft: Lego Clash and get ready to mercilessly annihilate your opponents as you move through a unique arena created with thousands of colorful Lego blocks.
Prepare for an unparalleled experience across 5 unique maps and wield your weapons to protect your back and kill your opponents before they can take your life. Create your own arcade, choose your position on the battlefield and defend yourself with all kinds of weapons against your enemies' attacks! Survive the massacre and have a great time with this colorful version of the famous Counter Strike as you explore the territory cautiously, collect ammo and become the best player. Good luck soldier...
MOVE

c

AGACHARTE

JUMP

AIM

SHOOT