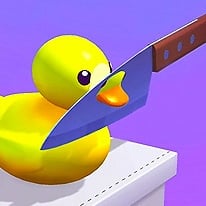 ASMR Slicing
40,583 Plays
How to play ASMR Slicing?
Get ready to enjoy a simple game of skill and cutting with ASMR Slicing that will test your patience and precision with a knife. Are you handy? Prove it by cutting up any tasty fruit and get all the little pieces to fall into the blender for a delicious juice.
The pieces will fall thanks to gravity directly to the sharp blades! Just choose the right cut to achieve your purpose and enjoy a nutritious snack before you return to work - good luck!